Teams and Walkers
Select A Team:
Sample Event


Join us on sample date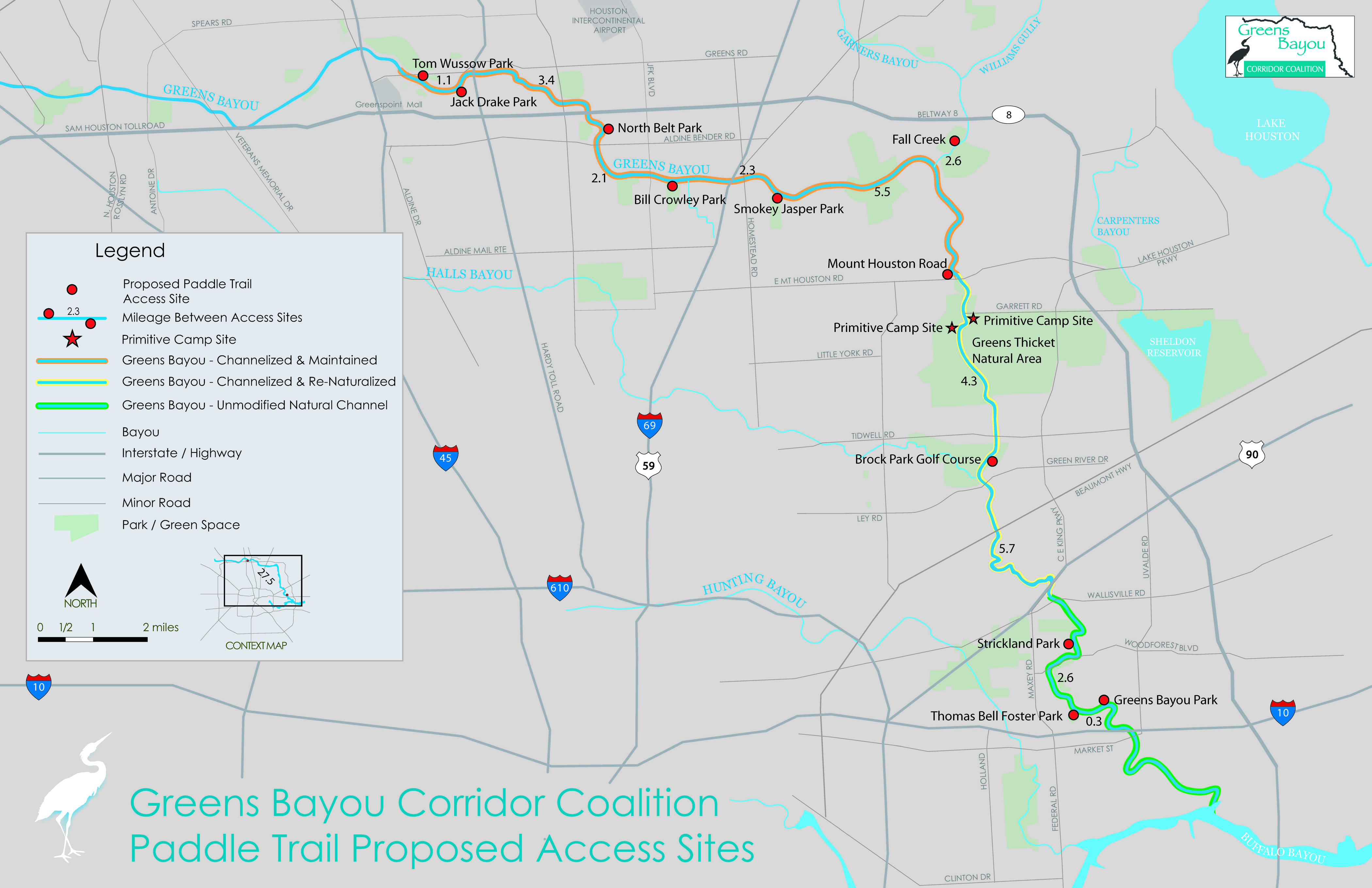 Greens Bayou Coalition promotes resilience, economic development and quality of life in the Greens Bayou watershed, home of the most connected corridor in Harris County. Greens Bayou Coalition seeks to benefit the economy and enhance the quality of life for the more than 500,000 residents in the Greens Bayou watershed through flood mitigation projects, parks and trails development, water quality and habitat stewardship, and economic development.

Greens Bayou runs for 45 miles from CyFair to the Port of Houston. The watershed covers 212 square miles and includes 308 miles of primary and tributary streams, including Halls Bayou, Garners Bayou and Reinhardt Bayou. The Coalition collaborated with the National Park Service and regional stakeholders to develop a plan for a paddle trail that will stretch from North Houston District (formerly "Greenspoint") to Galena Park. A committee composed of community volunteers now oversees development of the paddle trail.

---
Greens Bayou Paddle Trail
Vision
To be a recognized model paddle trail providing a variety of quality recreational experiences to paddlers with diverse skills, abilities and time availabilities.
Mission
Greens Bayou Paddle Trail partners are dedicated to improving public access to Greens Bayou on a reach up to 28 miles long, bounded by US 45 and IH10, serving as stewards of the waterway and access sites, and promoting its recreational use.

You can help make our proposal a reality. By participating in this race, you can fundraise, setup and promote your personal profile page through this website to your family, friends and coworkers.

Development History of the Greens Bayou Paddle Trail
The following are excerpts from the Greens Bayou Paddle Trail Strategic Plan. Download the full Strategic Plan.

Advisory Committee
The Greens Bayou Corridor Coalition ("The Coalition")kicked off the Paddle Trail planning effort in January 2013 with a broad group of invitees including paddling interests, potential governmental partners, and Reach Committee representatives. After attendees learned about the bayou's conditions and state and federal designation programs for paddle trails/water trails, the National Park Service ("NPS") initiated a process to create a vision, mission, and goals for the 27.5 mile corridor. Out of the initial group of stakeholders the Greens Bayou Paddle Trail Advisory Committee was formed to develop the strategic plan through advising, adoption of vision-mission-goals, field work, subcommittee participation, and development of a "how-to" guide for implementing the plan.

Field Assessment and Launch Site Recommendations
With input from the advisory committee, NPS developed a field assessment process to collect information on the bayou conditions in each of seven segments. In July 2013 volunteers in canoes and kayaks explored the bayou. Using a cell phone application that recorded photos and geolocation points, volunteers documented potential put in/take out sites, stopover sites, scenic points of interest, obstacles, and large debris.

In November 2013, the second field assessment was conducted of six potential launch sites, primarily located in existing parks or on property under Harris County Flood Control District (HCFCD) jurisdiction. The Technical Subcommittee visited these sites to collect information on characteristics that could be used to determine best launch sites: ease of access slope, available parking areas, distance from parking towater's edge, and more. The ownership of each site was determined.

After compiling the field data, The Coalition presented the findings to the Advisory Committee in February 2014. The multiple evaluations produced ten proposed launch sites. The Advisory Committee agreed on criteria to prioritize sites, attempted to prioritize them, and then agreed to recommend all sites equally to encourage the variety of partners that might implement launch sites in their area.
---
Recreation Goals

Major and Minor Trailheads
The Strategic Plan for Greens Bayou Paddle Trail recommends variously spaced trailheads along the 27.5-mile stretch of the bayou from the Greenspoint District area to almost IH10. The entire length can be paddled but the challenge is to find suitable access points where paddlers can easily carry their boats in and out of the water. The plan contains 10 recommended trailheads, located as close as 1 mile apart to 5.5 miles apart. The spacing meets the needs of a variety of paddlers.
Major trailheads are distinguished by the size of the proposed parking area (15 - 20 vehicles) vs. 5-10 for minor trailheads. It is desirable for both major and minor trailheads to accommodate boat trailers with either a turn-around or special trailer parking or both. All trailheads are proposed to have restrooms, trailhead kiosks, and shaded picnic tables.

The access from the parking to the water's edge will vary from site to site based on the distance to the water and the steepness of the bank. The 5 trailheads proposed in the upper reaches of Greens Bayou are characterized by banks whose slopes were engineered for flood conveyance. For these trailheads, the boat launch access route will be grass or wooden steps set into the bank slope with articulated concrete at the shoreline. They are not proposed to be designed for mobility impaired access due to their steepness.

The 5 trailheads into the lower reaches of the bayou are targeted to have some degree of easy access design to accommodate the mobility impaired paddler. From Mount Houston Road downstream, the bayou is characterized by vegetated banks and less steep slopes than the channelized portion. Some interim launch site development may not at first accommodate those with mobility issues but the intent is to make the lower 5 sites accessibly designed as funding is obtained to do so.

Stopover Sites
Primitive overnight camping spots are recommended on existing public land to provide an experience for paddlers desiring to make a two-day trip. Sites will not be accessible from roads so only those who carry their own camping gear in their boats will be using them. A minimum of two sites is desired: one that can accommodate groups like scouts or "meet-ups" with level areas for 10-12 tents and one designed for up to 4 tents. The campsites will need to be reserved through an on-line reservation system where users will pay a small fee. Proposed amenities at the campsite areas include waterless toilets, fire rings, and signs – one about packing out trash and phone number to report problems with the site and one that can be seen from the bayou to help paddlers find the designated sites.
---
Stewardship Goals
Greens Bayou Corridor Coalition seeks partnerships to implement all of its projects. Developing, managing, and maintaining the various proposed trailhead sites will be cooperative arrangements. The Coalition will likely have formal agreements with a governmental or non-profit entity to manage trailheads. Volunteers will play a large role in patrolling the sites, documenting maintenance needs, and participating in remedies.

Volunteers have already documented some obstacles in the shallow parts of the bayou that will need to be removed or have openings created for boats to pass through. As an urban waterway, Greens Bayou suffers from debris and even large objects that may have been deposited by floodwaters. In-stream and bank clean-ups and obstacle removal will become part of a developed protocol for maintaining both trailheads and segments of the paddling trails. Other proposed stewardship actions involve water quality testing and removal of invasive species.
---
Designation Goals
Designation goals involve seeking recognition of multiple segments of the 27.5-mile stretch of Greens Bayou from both Texas Parks and Wildlife's paddle trail program and the National Park Service's water trail program. To be recognized in these programs, access points must be usable and formalized with management partners, and various other best management practices must be in place.

We need your help to implement this strategic plan. Sign up as a paddler, share your fundraising page, enter your company into the Corporate Cup, donate, or share this event with your family, friends, and coworkers. Let's add a new paddling destination to Houston!